Shanghai 3C Industrial Co., Ltd has been focusing on PVC vinyl flooring manufacturing in China for over 20 years. Main products include SPC rigid core click flooring, WPC diamond core flooring, LVT click, LVT dry back, LVT Loose Lay, homogeneous & heterogeneous vinyl rolls.
Professional production team:
Over 1000 workers works in our 3 factories, production, testing, and production samples in each process of each production line, which promises every piece of our vinyl floor coverings 100% meet customer requirement.
Production Ability:
50 SPC production lines; 48 LVT production lines, 6 WPC production lines, 10 homogeneous & 6 heterogeneous; we have ability to produce more than 1.5million sqm floor coverings per month.
Quality Control:
Each production, we have test report by our own lab, test items include dimensions, wear resistance, anti-scratch, tearing and breaking strength, aging, 6P, Light degree etc..
Sales Team:
More than 20 international sales, 10 domestics, should be worked 3 months in workshops & other departments before sales, which makes sure every sales people knows each production process of the vinyl core flooring. Training every week to make sure every of our sales people knows latest international situation and the politics we could offer to customers.
After-sale Service:
Promise is promise; Feedback at first time; 24hours online service; any questions be answered within 24 hours.
Product Certificates: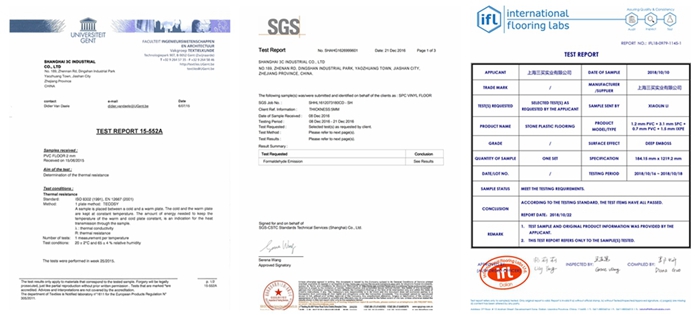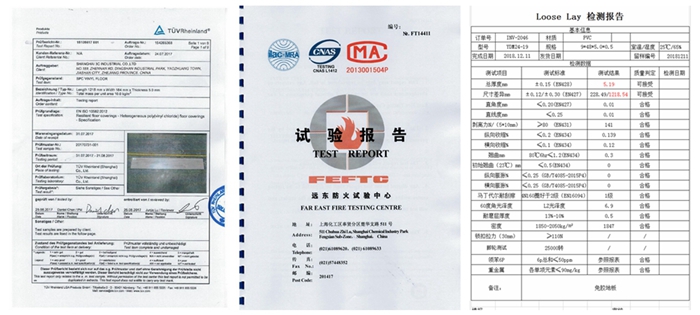 Company Certificates: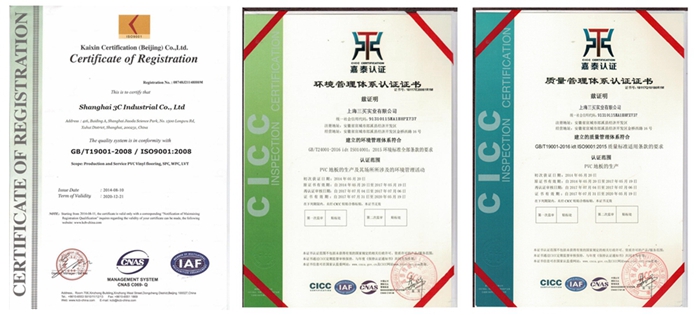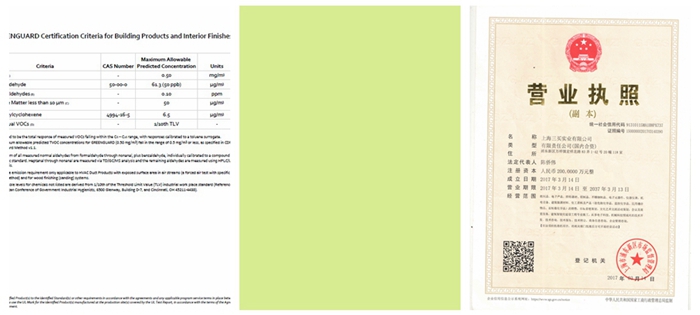 3C SPC Flooring production lines:
Wear Layer: Soft super clear PVC film
Production with washing component on the line, to make the wear layer clearer and with higher tearing and scratching strength, less separating out of the DINP.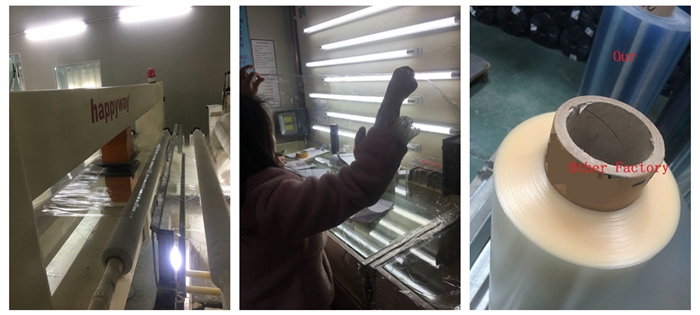 Printing Film: 0.07mm digital printing white PVC film
Whiteness must be 95-degree, softness 40Pa, production speed must be settled properly, if faster than scheduled, the pattern not clear; if slower, the ink spread. Film reach 12P environment standard.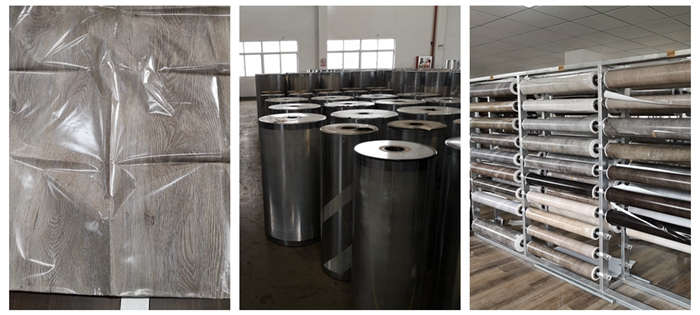 Color patterns selected and copied from raw wood and makes vinyl most similar to real wood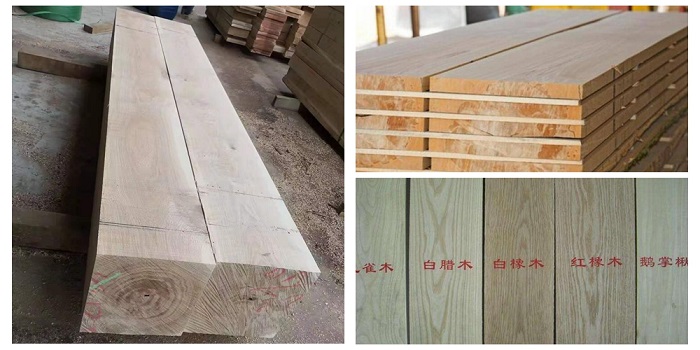 Rigid Core: PVC Resin, Calcium & plasticizer,extrusion
All raw materials 100% virgin, one-time extrusion 8mm thickness. Calcium should be 400 screen mesh, to make perfect feeling of the core. We also add little Carbon to make grey core for customers.
Backing liner:
IXPE: Polyethylene is the main raw material, and it is mixed with several other auxiliary materials that do not contain any harmful substances. It has excellent performance in durability, light resistance, and physical impact resistance. XPE itself is chemically stable, difficult to decompose, odorless, and elastic. Normal density 7.5X, 10X, 15X, 20X. Thickness 1mm, 1.5m, 2mm
EVA: (C2H4)x.(C4H6O2)y, Good softness, shock resistance, non-slip, strong pressure resistance. Thickness 1mm, 1.5m, 2mm
Cork: Normally 1.5mm and 2mm, made of wood composite.
Backing can be before and after cutting.
Click System:
UNILIN (UNIPUSH), Valinge (2G/5G, Drop Click), I4F
1. UNILIN click system: Mainstream of SPC Vinyl Click lock vinyl flooring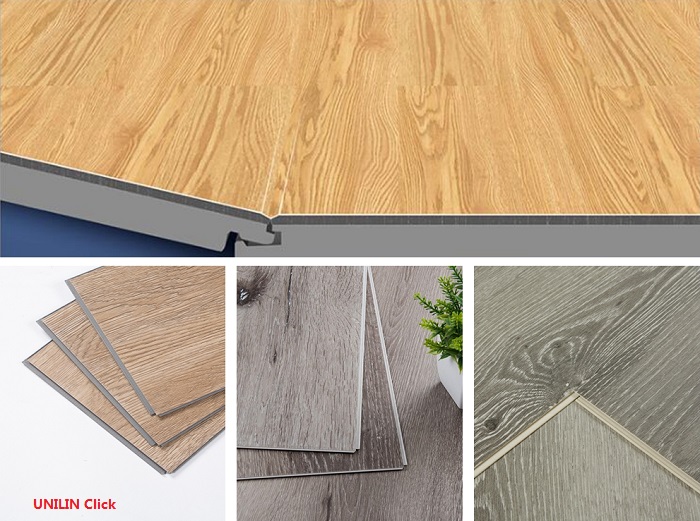 2. Valinge 2G Click Lock: Applicable on thin SPC vinyl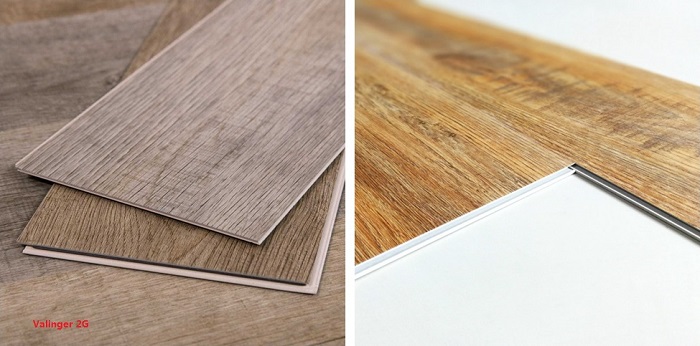 3. Valinge 5G click system: Applicable on SPC thicker than 5mm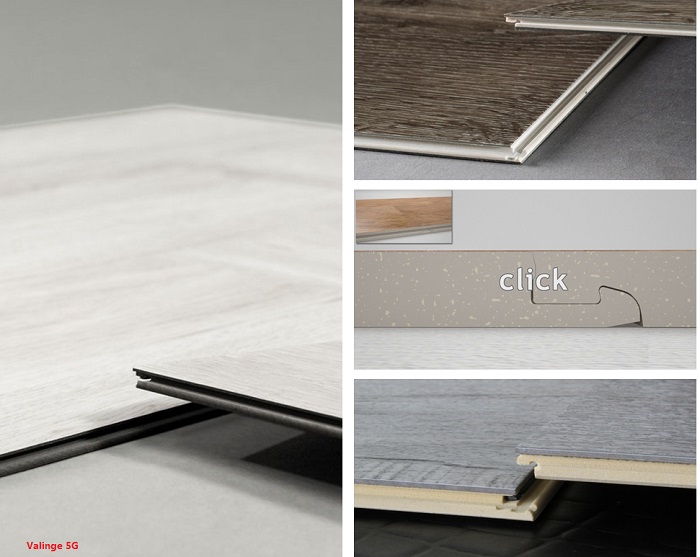 4. I4F click lock system: economic click system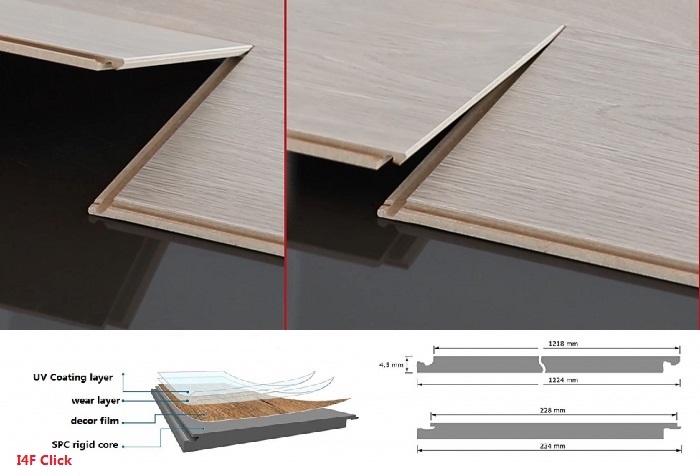 5. Drop click: Easy Installation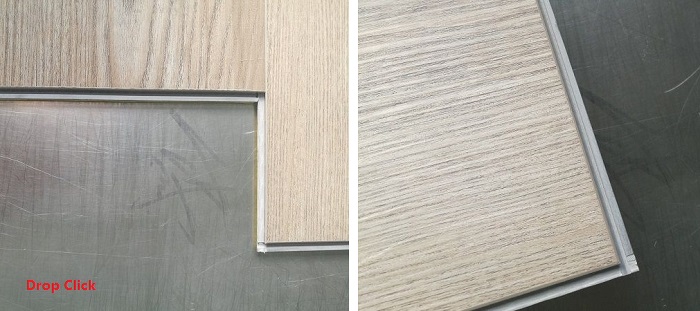 Trimming Process: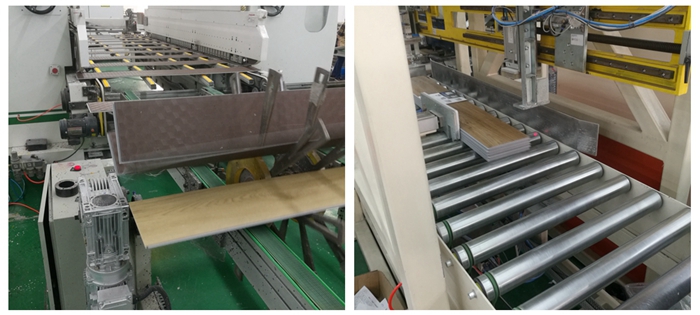 UV coating:
Normal PUR coating 1 layer, UV Drying;
Normal PUR coating 2 layer, UV Drying & Air-dry
Ceramic Coating: with Aluminum partition in the coating liquid, makes surface more anti-scratch, better wearing strength, better fireproof characters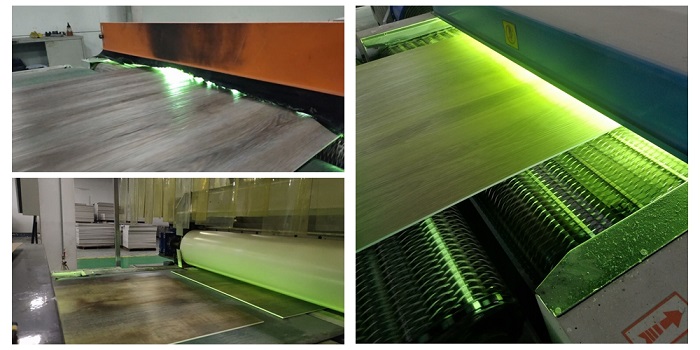 Product inspect before sending to customers: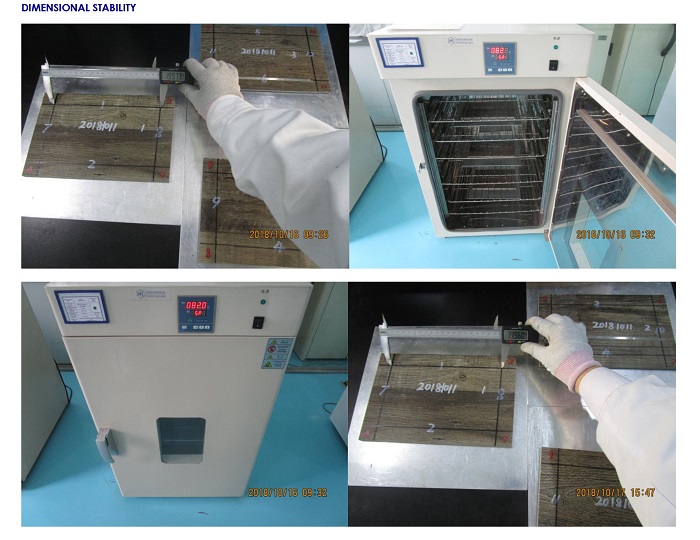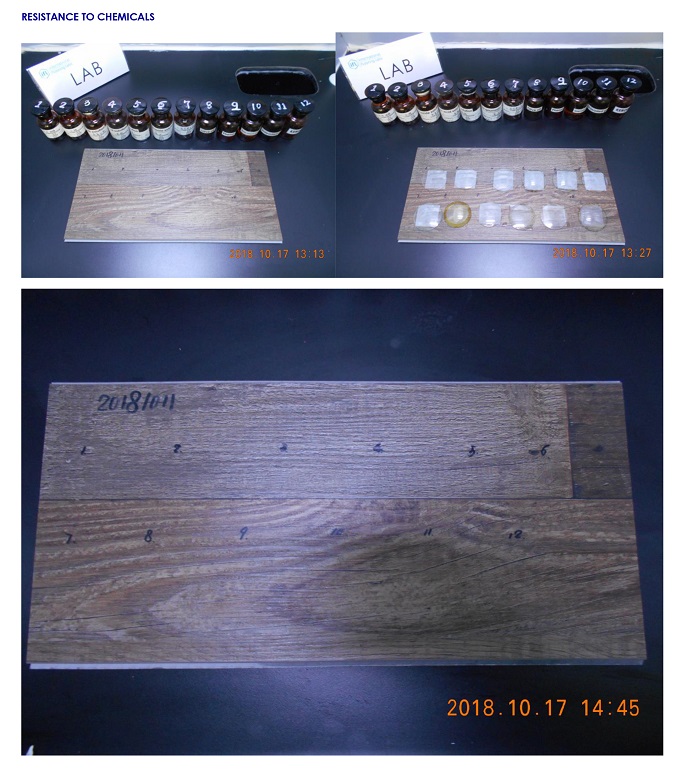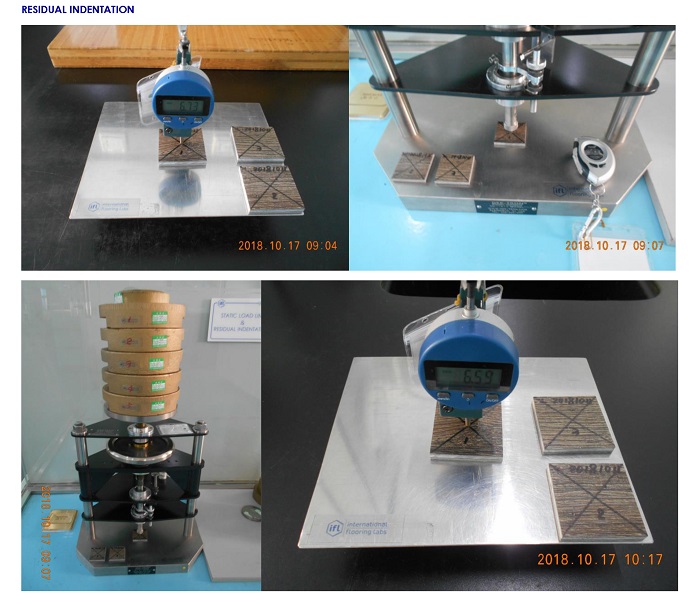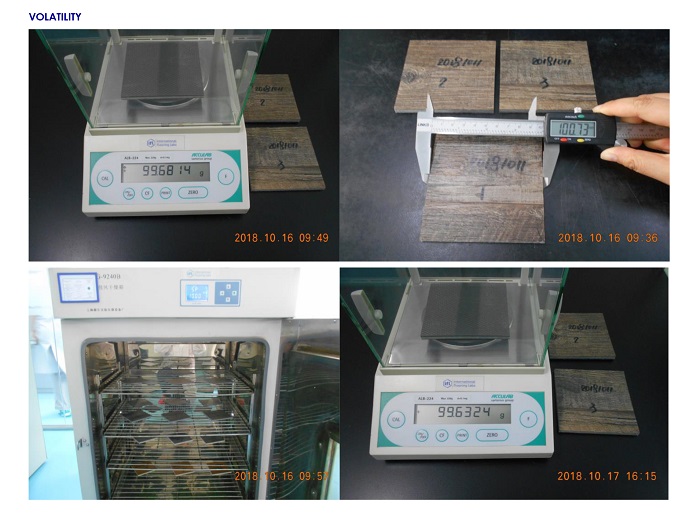 Packaging and storage: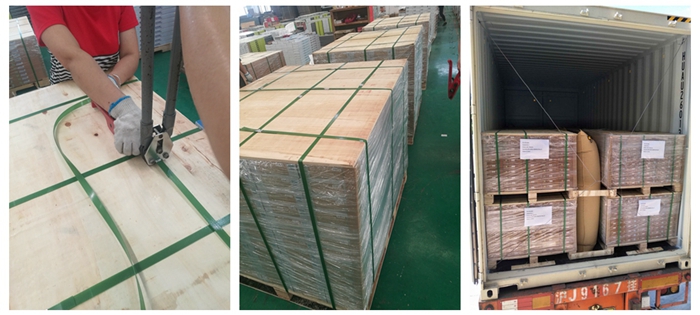 3C Industrial would be one of your best choice in flooring industry. Wherever there is construction, there is 3C !!