Vinyl flooring comes in a variety of construction types, such as sheet vinyl, glue down vinyl, loose lay vinyl and click vinyl. All of them are waterproof, but will have different pros and cons.
Glue down vinyl is when you use adhesive to seal the vinyl to the subfloor.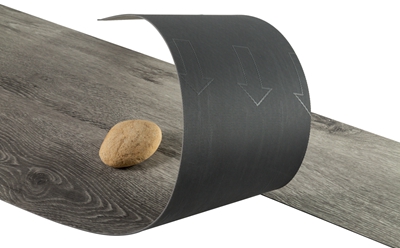 Click vinyl uses a click and lock system to keep the floor secure and connected.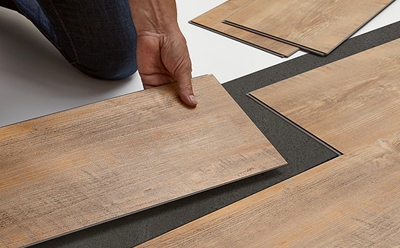 Depending on your project, you may choose a glue down or a click lock vinyl.
1.The Subfloor
Any type of vinyl can be installed over a variety of good condition subfloors.
If your subfloor is prone to high moisture, such as below-grade concrete, you're better off installing with a click-lock flooring because a vapor barrier can be used.
If you're looking for a softer feel under foot, we'd recommend looking at click vinyl.
In general, glue down vinyl plank floors are thinner than click vinyl. With this said, you will have less cushion over harder surfaces, such as cement.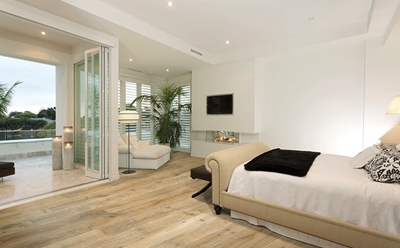 2.The Room Size
Larger rooms will have less joint stability with a click-lock installation.
For larger rooms, a glue-down installation will be your best option for installation. such as basements, offices and restaurants. For smaller applications, a click lock vinyl will be fine.
Both types of flooring are great in bathrooms, kitchens, laundry rooms and commercial settings.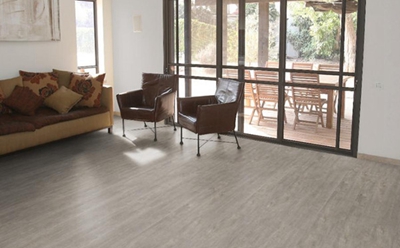 3.The Expected Foot Traffic
3.1For commercial projects:
Commercial areas tend to see higher amounts of foot traffic. Vinyl's with high wear layers, such as 12 mil or 20 mil, come with a commercial warranty and protection against higher foot traffic. For large, open spaces, you will want a glue down vinyl, for smaller applications, a click lock vinyl will be fine.
3.2For residential projects:
A glue down or click vinyl can be used. If you're looking for comfort, a click vinyl will be your best option, as they are thicker and can use an underlayment. If you're looking for a basic, budget friendly option for larger rooms, such as a basement, a glue down floor can be the best option.
3.3For temporary location:
Such as a pop up shop or trade show booth, a loose lay vinyl or a click-lock vinyl that can be easily removed and re-installed. This allows you to pick up the flooring quickly and move it with you wherever you go.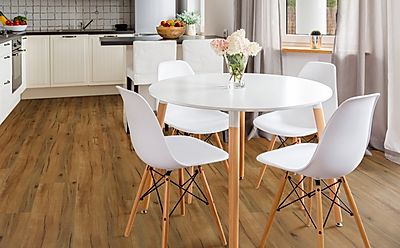 4.Your Vinyl Installation Type
Glue down vinyl can be done by inexperienced homeowners, but it's not ideal if you have never worked with an adhesive before. Click lock vinyl require little tools and no adhesive. It is a very DIY friendly option.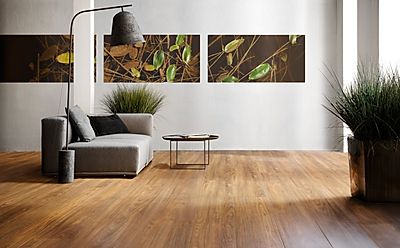 5.Budget
Glue down vinyl are typically more affordable than click lock vinyls. Click lock vinyls can be found in a variety of thicknesses with special features such as attached underlayment, which will increase the cost.