China SPC Vinyl Click Flooring
is made to cover the disadvantage of the traditional wood flooring: formaldehyde, no water resistance, less lifetime, etc. SPC LVT flooring is a new environmentally-friendly floor developed based on high technology. It has zero formaldehyde, mildew proof, moisture proof, fireproof, insect proof and simple installation.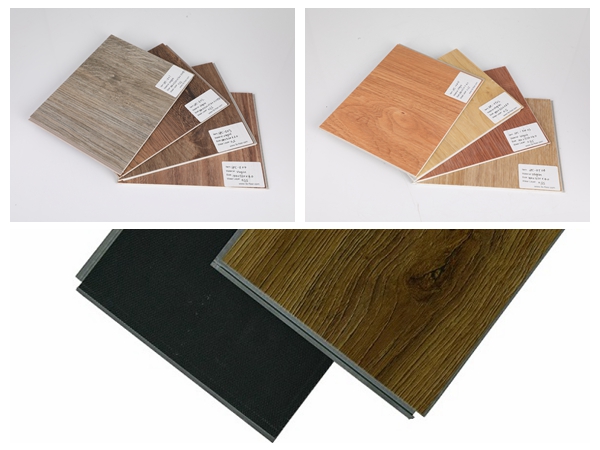 Materials and construction Layers:
1. Raw Material of Floating SPC Floor:
Raw material of SPC LVP flooring includes: PVC resin powder, stone powder, plasticizer, stabilizer, carbon black, the main components are polyvinyl chloride and stone powder. Polyvinyl chloride is an environmentally friendly and non-toxic renewable resource at room temperature. Stone powder is a natural material, 0 formaldehyde, which is more environmentally friendly.
2. Wear Layer
Wear Layer of SPC vinyl flooring is a transparent PVC film, which is used for protect the decoration film, and embossed to make the SPC hybird flooring more like the real wood floor or Stone texture. Regular thickness 0.3mm (12mil), 0.5mm (20mil), 0.7mm (28mil). It is produced by calendar machine.
3. Decoration film layer
SPC Decoration film layer is the main layer to make vivid color appearance for the SPC vinyl click flooring, 3C Flooring Group has its own printing machine which has more than 100 color to be chosen from. At the same time, we also cooperate with 2 famous decoration film factory who can supply us more films
4. Rigid Core
The Rigid Core of SPC is the stone powder go through the extrusion machine, to make the stone plate, in high temperature, laminate with wear layer and decoration film. To make 48" size SPC planks.
5. Backing Layer
Backing Layer of SPC rigid core vinyl flooring manufacturer is made of IXPE or EVA, and sometimes CORK. It's used to avoid the noise made by the click system. It is stick onto the back of the SPC floating floor after processed.
Production Process and machines:
1. Calendaring for Wear Layer and Printing Film:
Calendaring machine production technology which mix the PVC with additives and expand it to a standard PVC film in high temperature. Then cool the PVC film and roll the film.
2. Printing Machine to print the decoration film.
The main material for printing is organic and synthetic pigments for printing the decoration film. It is environmentally friendly and colorful, to meet different visual effects. 3C Group has max 8 color printing technology which makes more vivid color performance.
3. extrusion machine: Main production process of SPC
SPC floor is extruded from the extruder with T-die to extrude the PVC substrate, and the three-roll or four-roll calendar is used to respectively wear the PVC wear-resistant layer, PVC color film and PVC substrate, and heat-fit and emboss the product once. The process is simple, the fit is done by heat, and no glue is needed.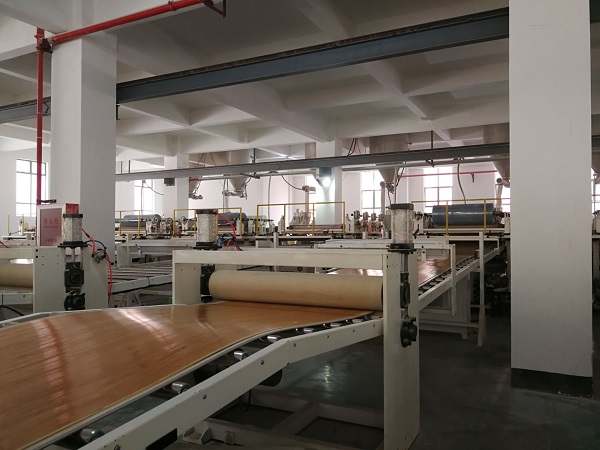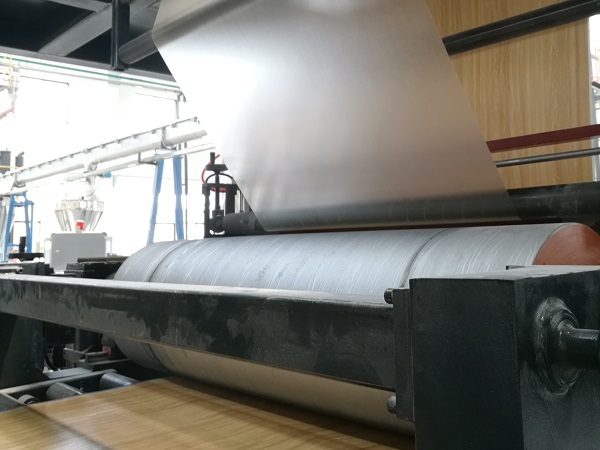 4. UV treatment
UV treatment is just the roller to put the liquid PUR spread onto the surface of the wear layer, after heating and cooling process, the process completed.
5. Cutting machine
After the SPC plank finished, it is cut into required sizes: 6"*36", 7"*48", 300mm*600mm, etc. Theoretically speaking, the plate can be cut into different sizes according to customer requirement.
6. Click system slotting
3C use UNILIN click patent, we have slotting method with UNILIN 2G & 5G system. Also other click systems available: I4F, Valinge, etc...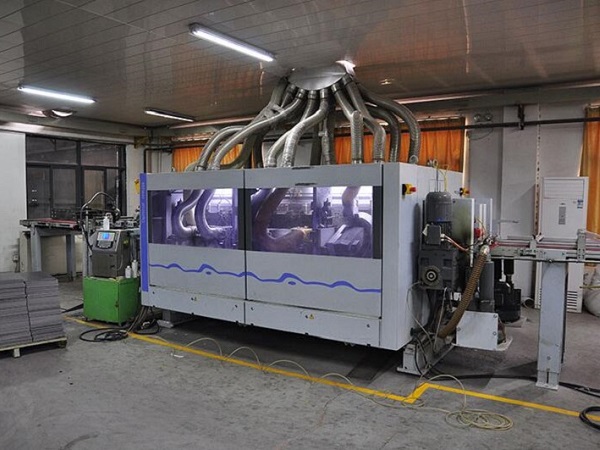 Drop click system SPC vinyl flooring is applied with drop click system on the short side of the SPC vinyl plank. The main advantage of the click system is easy to install, after click the long side of the plank, the short side is easy to lock with a soft hammer.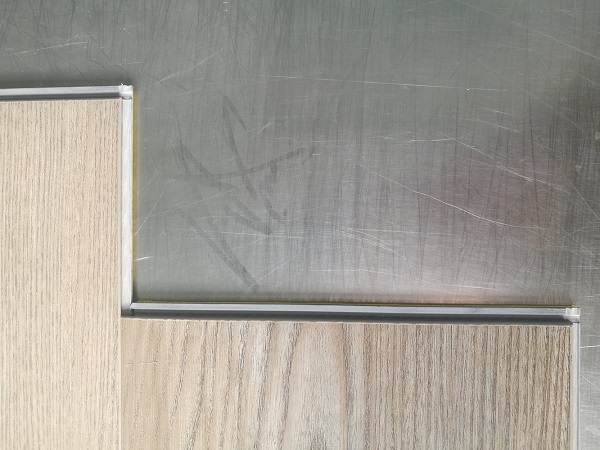 7. Bevel Painting machine,
Micro Painted Bevel is widely used for SPC oak flooring more than 5mm thickness. It is a way the differentiate from each plank after installation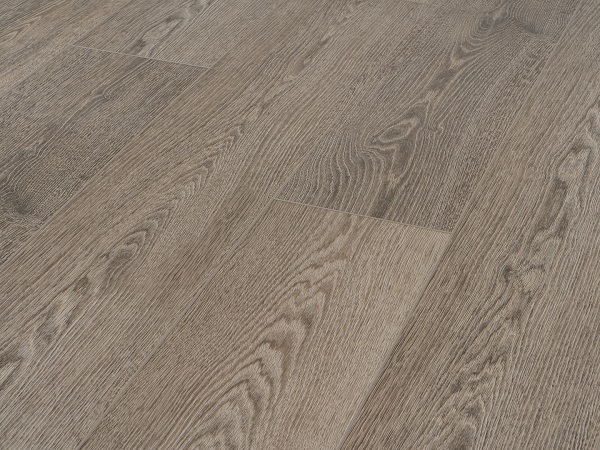 8. Backing machine.
It's a lamination machine which put glue between the SPC flooring and the backing layer, and press them together.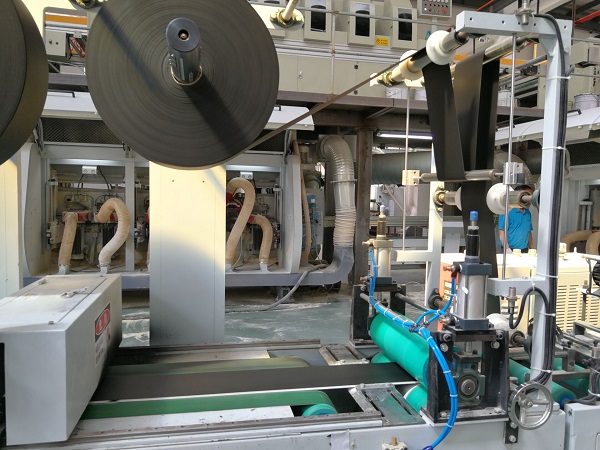 9. EIR on the SPC click floor
EIR: Embossed in Rigistered, it means the sueface pattern is according the decoration film pattern. it gives more real feeling on the surface.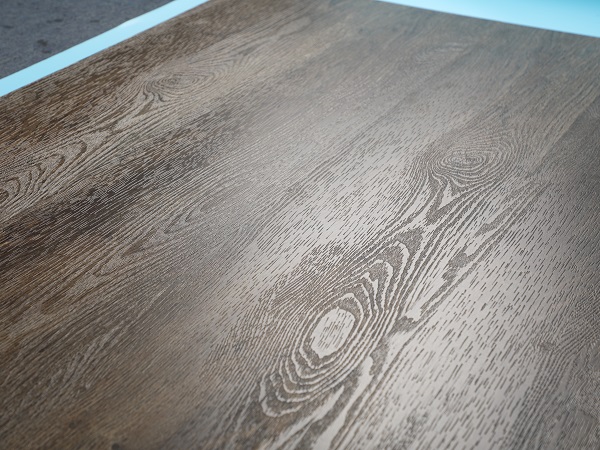 3C Group main production machine for plank flooring as following:
Production Equipment:

Name:

Qty

Name:

Qty

Name:

Qty

SPC extrusion machine

30

film printing machine

1

bevel paint

1

SPC grooving machine

4

PVC calendaring machine

4

cold press machine

6

hot press machine

48

punching machine

5

edge trimming

3

grooving machine

5

packing machine

2

UV coating machine

5
Testing Method:
3C Group has its own lab to test each order from our factory, and we are sponsoring East China University of Science and Technology lab for exploring new products and testing the existing SPC rigid flooring products.
3C Group main testing machines as following:
Test / Inspection Equipment

Name

Qty

Name

Qty

Name

Qty

phthalate

1

peeling test

1

scratch resistant

1

heavy metal

1

density gauge

1

Castor test

1

Lock pull

1

Martindale Pilling Tester

1

Artificial climate Chamber

1

UV gloss

10

 

 

 

 
SPC timber flooring materials use environmentally friendly formulations and do not contain hazardous substances such as heavy metals, phthalates, methanol, etc., in accordance with EN14372, EN649-2011, IEC62321, GB4085-83 standards. It is very popular in developed countries in Europe and America and in the Asia Pacific market. With its excellent stability and durability, the stone-plastic floor not only solves the problem of moisture deformation and mildew of the solid wood floor, but also solves the formaldehyde problem of other decoration materials.
Installation Method:
Applicable floor: tile floor, old wood floor, terrazzo floor, applicable for floor heating, concrete floor, stair floor; if the ground is flat, it can be paved.
preparation before installation:
The unevenness of the base layer should be less than 2 mm in the range of 2 m ruler. Otherwise, the self-leveling should be used for leveling. If the original ground is not moisture-proof, a waterproof polyethylene film (film and film overlap 20cm) should be laid.
Clean and dedust before installation to ensure that there are no debris or gravel on the floor to ensure that the floor is dry and level. The nails and screw heads must be completely knocked in. Level any protrusions and gaps on the ground. The surface peeling, bulging, or damaged parts must be repaired.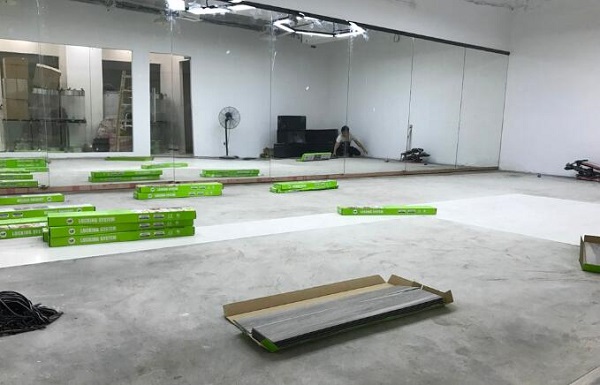 1. First check the floor, and place the side with the raft on the wall. There should be a 10mm expansion joint between the floor and the wall. After the floor bonding is completed, the person is forbidden within 24 hours. After the glue is dried, the wooden wedge is taken out.
2. The first floor of the second row is installed on the long side as shown in the figure. The floor of the floor to be paved is inserted into the groove of the first row of floor to lift the floor slightly upward at an angle of 20 degrees until the joint position is flattened down the floor. To make them tightly joined.
3. Like other floors, the floor that continues to be laid should be wedged into the correct position as in the longitudinal direction above.
4. When weaving in the longitudinal direction, the distance between the front part of the plate and the front piece of the plate should be as small as possible. Then use the slab to tap the short side horizontally to make them join, and the specially designed lock will automatically buckle.
Storage & Transport:
3C Group has 3 clean, Airy and dry wear houses to stock the flooring, and during transportation, we load carefully especially for international orders.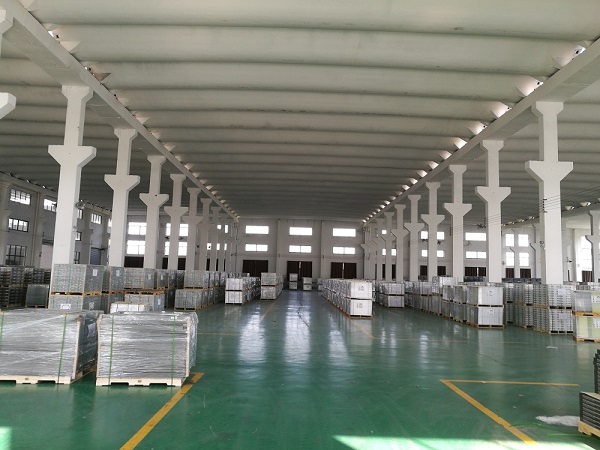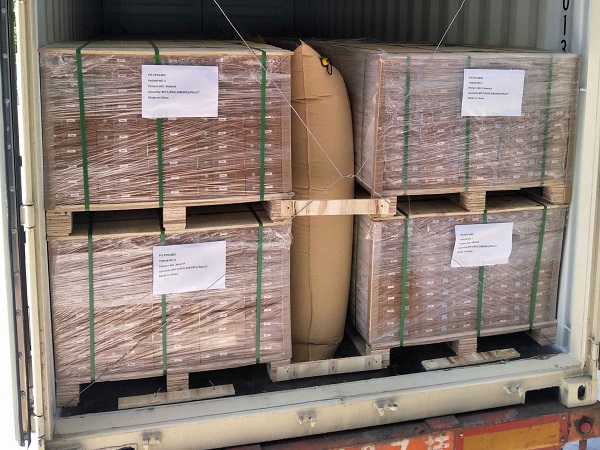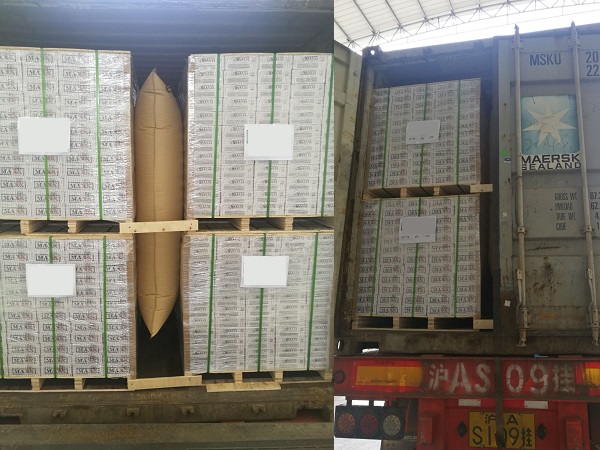 Main SPC flooring planks product specifications and loading capacities:
Thickness/wear layer thickness

Size

pcs/box

boxes/pallet

pallets

SQM/20GP

4/0.3mm

6'' x 36''

15

60

20

2508.38

7'' x 48''

12

50

20

2601.29

9''x60''

9

48

14

2107.04

5/0.5mm

6'' x 36''

12

50

20

1672.25

7'' x 48''

10

50

20

2167.74

9''x60''

6

56

14

1638.81

4/0.3mm++1mm IXPE

6'' x 36''

15

60

20

2508.38

7'' x 48''

12

50

20

2601.29

9''x60''

9

48

14

2107.04

5/0.5mm+1mm IXPE

6'' x 36''

12

50

20

1672.25

7'' x 48''

10

50

20

2167.74

9''x60''

6

56

14

1638.81

8mm

6'' x 36''

10

60

20

1672.25

7'' x 48''

8

55

20

1907.61

9''x60''

6

48

14

1404.69

4.5/0.5mm+2mm EVA

6'' x 36''

9

60

20

1505.03

7'' x 48''

8

55

20

1907.61

9''x60''

7

54

14

1843.66
3C Group is professional China SPC vinyl click flooring manufacturer and supplier. If you have more interest, please contact our sales team for more information.